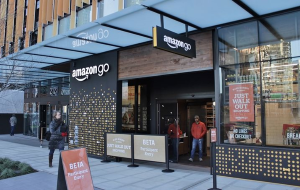 Amazon`s invasion of the grocery store industry could begin in earnest next year.
The e-commerce world-conqueror has been testing a 10K SF version of its cashierless Amazon Go convenience store in Seattle`s Capitol Hill neighborhood, and could roll out the concept in a nationwide expansion as soon as the first quarter of 2020, Bloomberg reports. The new format could reportedly apply to stores as large as 30K SF, the size of many grocery stores.
Since the first Amazon Go opened on Amazon`s Seattle campus around two years ago, the concept`s national store count has risen to 21, with an average footprint of 2,500 SF. Amazon Go stores sell exclusively prepared and packaged items that are relatively simple for the store`s array of cameras and sensors to identify and charge to customers` Amazon accounts, allowing for shoppers to walk straight out of the store once they have selected their items.
...more