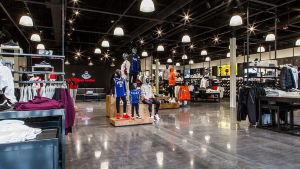 Foot Locker is rolling out larger, more experiential stores in collaboration with sports apparel giant Nike. The locations, known as Foot Locker Power Stores, will be roughly 9K SF, about four times as large as typical Foot Locker stores, and will include proprietary technology developed by Nike.
The footwear retailer is betting big on the new concept in the face of an ailing retail market — it plans to open as many as 50 such locations nationwide over the next two years. The latest location is opening on Aug. 10 in the Washington Heights neighborhood of Manhattan.
With the rollout, the company aims to reinvent its shoe stores to bring people in, despite competition from Amazon and other physical stores, CNBC reports...
...more